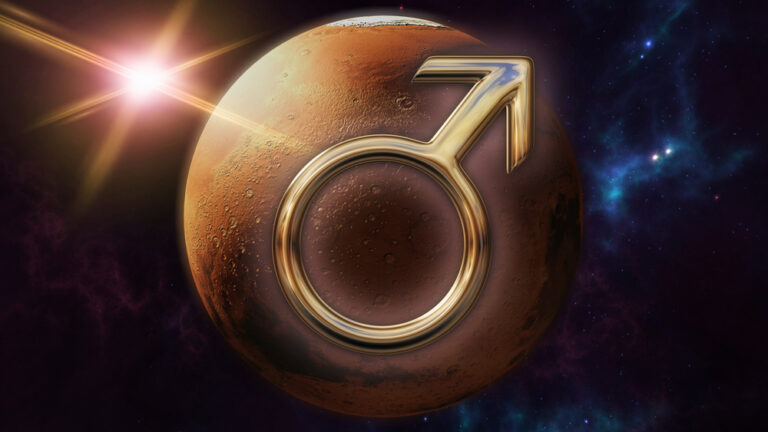 Time flies – and it's time for my Astro calendar again! In 2023, the planet Mars is our ruler. Let's  prepare for something powerful, because in astrology Mars stands for male energy, our willpower – in short: how we assert ourselves in life.
The peculiarity for Mars this year is that it is staying in one zodiac sign for an unusually long time. It has been in the sign of Gemini since August 20th of 2022 and will be in retrograde here from October to January '23 before finally moving into the next sign Cancer on 25th March.
Let's have a look at this interesting energetic mix: The powerful, energetic and strong-willed Mars meets the bubbly, flexible, mental energy of Gemini. So. it is clear that we are called to sort out our thoughts (more) quickly in order to move forward unerringly on our way. In addition to a good focus (which the Gemini is sometimes missing) it is also important to have the will to make decisions, which will be difficult under Gemini because of their curious mind and varied interests.
If you want to be successful, you should have a disciplined, focused and detail-oriented way of thoughts and actions in these first months of the year.
But oops – there comes Mars in retrograde. Of course, it doesn't actually go backwards in the sky; that's just what it looks like from our Earth perspective. From 30th October last year to 12th January Mars will go 'backwards'. This could feel like our projects and plans come to a standstill. We are really slowed down. In this phase it is advisable to switch back and think about what can be improved or changed in the planning. Then later, when Mars moves forward again, it will work much better with the implementation.
So, this is an outlook about the intense Mars/Gemini energy in the first quarter of 2023.
But now to the core: I am offering you your individual Astro Calendar 2023. This is unique – meaning, you will not find such a tailormade calendar elsewhere. It was developed and designed by me and I have further improved the content and design as well.
Monthly you can follow all your important (long term) planetary transits in your own horoscope (An explanation of the used symbols is provided.). The constellations in your natal chart with the transiting planets are shown and interpreted. In addition, the change of the sun signs (including your birthday sun return), as well as lunar events (new and full moons, eclipses) and retrogrades of the planets are displayed – so that you are well prepared for the cosmic energies that will touch, move and influence you this year. Your decisions will be sharpened and can improve your life situations dramatically – I myself tried it out several years and it works!!!
Price is 30 € for your calendar in pdf format (Also available as a gift for someone else!)
(Please, tell here the relevant birth dates, time and location for your personal calendar)
Die Zeit fliegt – und schon ist es wieder Zeit für meinen Astrokalender! Im Jahr 2023 regiert der Planet Mars. Da können wir uns auf Einiges gefasst machen, denn der Mars steht in der Astrologie für die männliche Energie, unsere Willenskraft – also kurz gesagt: wie wir uns durchsetzen im Leben.
Die Besonderheit für den Mars in diesem Jahr ist, dass er sich für eine ungewöhnlich lange Zeit in einem Sternzeichen aufhält. Schon seit dem 20. August 2022 steht er im Zeichen Zwillinge und wird hier von Oktober '22 bis Januar rückläufig, bevor er am 25.3. endlich in das nächste Zeichen Krebs einwandert.
Betrachten wir einmal diese interessante energetische Mischung: Der starke, energische und willensstarke Mars trifft auf die quirrlige, flexible, geistig angeregte Energie des Zwillings. Da ist es klar, dass wir aufgefordert sind, schnell(er) unsere Gedanken zu sortieren, um zielsicher auf unserem Weg voranzugehen. Wichtig ist neben einem guten Fokus (der Zwilling ist da etwas kurzweilig unterwegs) auch Entscheidungswille, denn dieser fehlt dem Zwilling oftmals bei seiner Neugier und vielseitigen Interessen.
Wer erfolgreich sein will, der sollte eine disziplinierte, fokussierte sowie auch Detail-orientierte Denk- und Handlungsweise an den Tag legen in diesen ersten Monaten des Jahres.
Aber – oops – da ist ja noch die Rückläufigkeit des Mars. Natürlich geht er nicht wirklich rückwärts am Himmel; das sieht von der Erde aus betrachtet nur so aus. Vom 30. Oktober '22 bis 12. Januar '23 wird das der Fall sein. Da könnte es vermehrt passieren, dass Projekte und Vorhaben ins Stocken geraten. Man wird regelrecht ausgebremst. In dieser Phase ist es ratsamer, erstmal zurückzuschalten und sich Gedanken zu machen, was verbessert oder verändert werden könnte in der Planung. Dann klappt es später, wenn der Mars wieder vorwärtsgeht, auch viel besser mit der Umsetzung.
Das erstmal zu der intensiven Mars/Zwillings-Energie im ersten Vierteljahr.
Nun aber zum Kernstück: Einzigartig biete ich Euch Euren individuellen Astrokalender 2023 an. Er ist von mir entwickelt und dieses Jahr weiter verbessert worden. Ihr könnt in den Monatsblättern alle wichtigen planetaren Transite zu Eurem eigenen Horoskop verfolgen (Eine Zeichenklärung der Symbole liegt bei.).  Außerdem werden die Sonnenwechsel in den Zeichen (einschließlich Eurer Sonnen-Rückkehr zum Geburtstag), sowie Mondereignisse (Neu- und Vollmonde, Finsternisse) und Rückläufigkeiten der Planeten angezeigt. So seid Ihr bestens gerüstet für alle kosmischen Energien, die Euch in diesem Jahr berühren, inspirieren und beeinflussen werden.
Wem das noch nicht reicht, und wer mehr über die Bedeutungen der Transite erfahren möchte, der kann in meinem Buch nachschlagen. Dort sind alle Planeten-Konstellationen erklärt, und auch zu den Mondphasen sowie der Rückläufigkeit von Planeten sind ausführliche Kapitel enthalten. Es eignet sich also hervorragend als Begleitbuch zum Kalender, aber auch als Einstieg in die Astrologie! Schaut einfach auf meiner Webseite unter der Rubrik "My Book" und bestellt es Euch!
Dein persönlicher Astrokalender ist zum Preis von 30 € ab jetzt in pdf Format zu bestellen. (Auch als Geschenk für Eure Lieben erhältlich.)
(Bitte teile Geburtsdaten, Zeit und Ort mit für Deinen persönlichen Kalender.)